About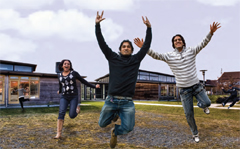 Køge Business College was founded in 1897 and is a well established institution with close ties to Danish and international business life. The College offers a wide range of educational programmes from business studies on a basic level to further and higher programmes, including programmes for adults. For customized programmes participants are e.g. ministries, businesses, local authorities as well as unemployed people. All departments co-operate closely with the business world in designing the programmes, and as a result the programmes reflect the demands of the labour market to a high extent. Furthermore a wide range of international project activities, promoted by the college has given international recognition and a wealth of experience – particularly within didactics.
Role within the EU Project
Køge Business College has been working with problem oriented semester projects since 2000. In 2007 the approach of teaching was adjusted in order to give the students even more experience with forming their own way of learning by combining ordinary classes with short projects based on common themes. Thereby Køge Business College has gained valuable experience in mass customized learning. Also in terms of finding important problems – specially when it comes to the international students. Therefore Køge Business College will be focussing on a further development of mass customized education by finding ways to help the students being better in seeking for help of the teachers when it is relevant for their learning purpose.