About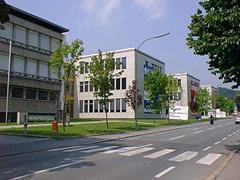 About 1000 trainees are visiting the vocational school in Villach. The school system is based on the dual system, that means that the education takes place in two different organizations – the companies (4/5 of the time) and in the school (1/5 of the time). The vocational school will supplement the skills of the students with result oriented instruction and promoting the independence of the pupils. The strong high practical orientation strengthens the apprentices to act in vocational situations with professional, personal and social responsibility. A goal of the school is also to take place in international projects to get another point of view and open the school for new ways of teaching and learning. "One can lose its work, but not its occupation"
Role within the EU Project
Austria has a long history in vocational education; our dual system (80% working in a company and 20% studying in school during apprenticeship) is well known. But time, education and students are changing. We want to provide our students with skills that will help them during their professional life, which now includes lifelong learning and individual, self-organized studies.

Our goals:
self-content young adults who don't hesitate to ask and demand answers
promote and demand skills and expertise and strengthen personalities
international activities not only for university studies but also for standard apprenticeships
new co-creative waysof teaching and coaching
meet our students in their ways of live and learning
an efficient partnership between the students, the teachers' teams and working environment in everyday life
How do we want to achieve this?
Shared and standardized preparation-work of the teachers thus providing more time for the individual needs of our students.
Implement and facilitate a monitored "pull-pool" for our students' study.
Research other systems of education in other countries.
Learn from our partners in the project.